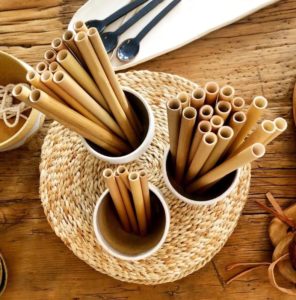 We deliver good quality straws that are 100% organic. They are made by local entrepreneurs and not somewhere in a large factory in China. Bamboo straws can be used up to 100 times. They are nicely cut and do not contain splinters. They are easy to clean and with a cleaning brush included you can also easily clean the inside part with water. Once you throw them away, they are also suitable for compost. We also have straws with a name, logo or web address on it. Ideal to properly promote your company name or use as PR material! The text is burned into the straw and contains therefore no ink or other type of toxic product.
We have straws in various sizes and thickness ranging from 15 to 22 cm in length. The thinner straws are ideal for soft drinks or cocktails while the thicker ones are suitable for orange juice, tomato juice, milk shakes or smoothies. You can even use the bamboo straws for hot drinks like coffee or tea.
Bamboo straws give a luxurious yet natural look to the presentation of your drink!
We have the following straws available:
Length: 22 cm Ø: 1,0 cm
Length: 22 cm Ø: 0,8 cm
Length: 22 cm Ø: 0,5 cm
Length: 20 cm Ø: 0,8 cm
Length: 15 cm Ø: 0,8 cm
Length: 15 cm Ø: 0,5 cm
If you wish any other size then please just send us a simple email with your request.
Do not use paper straws! In addition to the fact that an enormous number of trees are cut for this, they are also treated with toxic substances and glue and after one use they end up on the garbage dump.
Would you like to know what we can do for you? Contact us